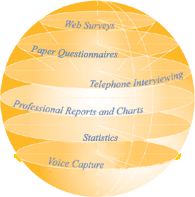 Interviewing Companies

---
The following companies offer fieldwork and interviewing services using The Survey System. Please make direct contact with any that appear to meet your needs. If you use The Survey System with Sample Management and want to be listed, contact CRS at Bill@surveysystem.com

Notes
Creative Research Systems accepts no responsibility for any transactions that may take place as a result of contacting any person or company on this list.

Inclusion on this list does not imply endorsement by Creative Research Systems.

The list is presented alphabetically by state, with locations outside the US at the end.
AK


CA





| | |
| --- | --- |
| Location | Oxnard |
| Company | Barna Research |
| Contact | David Kinnaman |
| Phone | 805-658-8885 |
| E-mail | n/a |
| http:// | n/a |




CO


FL





GA


IA





IN


| | |
| --- | --- |
| Location | Indianapolis |
| Company | Central Research |
| Contact | Paula Spear |
| Phone | 317-955-5100 |
| E-mail | Paula@tuintercept.com |
| http:// | n/a |



KY


MI


| | |
| --- | --- |
| Location | White Lake |
| Company | JB Williams Assoc |
| Contact | Jeffrey Williams |
| Phone | 248-887-0652 |
| E-mail | n/a |
| http:// | n/a |

MO


| | |
| --- | --- |
| Location | Clayton |
| Company | Kuchar Assoc |
| Contact | Jack Kuchar |
| Phone | 314-863-6789 |
| E-mail | Jkuch1@mindspring.com |
| http:// | n/a |

NC


NE


NY


MD

NV

OH




TN


TX





VA


| | |
| --- | --- |
| Location | Richmond |
| Company | Alan Newman Research |
| Contact | Lee Anne Holdren |
| Phone | (804) 272-6100 x253 |
| E-mail | lholdren@anr.com |
| http:// | www.anr.com |




| | |
| --- | --- |
| Location | Williamsburg |
| Company | The Wessex Group |
| Contact | Suzanne Huddleston |
| Phone | 800-253-5606 |
| E-mail | Wessex@tni.net |
| http:// | n/a |

WI


WV


| | |
| --- | --- |
| Location | Charleston |
| Company | McMillan Research |
| Contact | Sandy McMillan |
| Phone | 304-343-9650 |
| E-mail | Mcmillres@aol.com |
| http:// | n/a |

Locations outside the USA

Puerto Rico


| | |
| --- | --- |
| Location | Santurce |
| Company | Consultec |
| Contact | Jose Rivera |
| Phone | 787-727-6865 |
| E-mail | info@consultecpr.com |
| http:// | n/a |




| | |
| --- | --- |
| Location | Guaynabo |
| Company | De la Cruz Assoc |
| Contact | Myrna de Jesus |
| Phone | 787-782-4333 |
| E-mail | n/a |
| http:// | n/a |

Canada - BC


Germany


| | |
| --- | --- |
| Location | Drensteinfurt |
| Company | Eumara Research |
| Contact | Thomas Stuhldreier |
| Phone | 49-25-389-3050 |
| E-mail | Thomas Stuhldrier |
| http:// | www.eumara.com |

South Africa