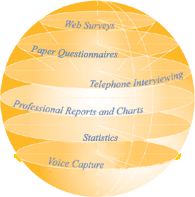 Creative Research Systems

---
Creative Research Systems was founded in 1982 to provide software for market researchers, political pollsters, human resource professionals, social scientists and others who use questionnaires.
Other services for opinion researchers include an expanding series of free aids for survey researchers, a data processing service, and Web survey hosting.
In addition, CRS offers Climex and Dymex for biological researchers. Climex predicts the potential distribution and relative abundance of species in relation to climate. Click here for more on climate matching software. Dymex models natural systems. Click here for more on population modeling software.
You can contact Creative Research Systems using any of the following addresses or telephone numbers:
411 B St., Suite 2
Petaluma, CA 94952 USA

(707) 765-1001 Voice
(707) 765-1068 Fax

Email: info@surveysystem.com