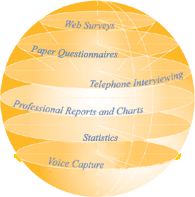 Survey Templates

---
Creative Research Systems offers sample surveys in several areas. If you are a Survey System user, you can use these question files to get ideas and to save time. You can modify them as needed or import questions from them into your own question files.
Demographic questions is a library of common questions that can you can import into your own surveys to save typing time rather than a complete survey.
These question files are compressed using .ZIP format. You can uncompress them using WINZIP and other products. After you decompress them, copy them into The Survey System's working folder (default directory).