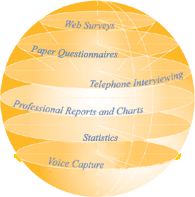 Evaluation Edition

---
We offer two fully functional Evaluation Editions of The Survey System. There is no time limit - only a restriction on the amount of data you can use at one time.
The first is the free downloadable version. This includes a PDF copy of its Tutorial, with step-by-step introductions on how to use The Survey System. To download this version from our main website at www.surveysystem.com, please click here.
The other is our full Evaluation Edition. This version includes the software on CD and printed copies of the full user Manual and Tutorial. This costs $49 which is applicable to the price of a full copy of the system. If you should decide The Survey System does not meet your needs, you can get a refund of the cost of the Evaluation Edition (excluding shipping and handling), if you return it within 30 days of shipping. See price and ordering information for details on ordering this version.