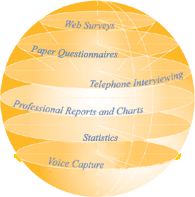 .
Technical Specifications and Support

---
Technical Specifications
Allows an unlimited number of questionnaires per survey.
Accepts up to 32,000 questions per questionnaire.
The Professional Edition allows up to 32,000 characters of text per person.
Works on the following platforms:
Windows 95 or 98
Windows NT 4 or later
Windows 2000, ME, or XP
Macintosh (through Virtual PC)
Requires a Pentium, Celeron or compatible PC with at least 64MB RAM and 20 MB free disk space.
Support
"The best in the business!" according to our clients. We provide complete technical support in English, French and Spanish, although The Survey System is so easy to use you probably won't ever need it.
In addition, we offer all registered users:

DataFile, our newsletter with new developments and tips.
Training seminars at various locations in the USA.
A data processing service, for when you get more work than you can handle
Free updates you can download from this Web site
Money Back Guarantee
We are sure you will find The Survey System to be the most comprehensive survey analysis package available but, if for any reason, you are not 100% satisfied, return it within 30 days of shipping for a full refund (excluding shipping and handling). In addition, if you discover some circumstance in which the software does not work as described in the manual, we will provide a correction free of charge.