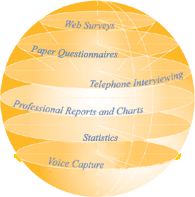 Survey Analysis Software System

---
Thank you for your interest in our survey analysis software. We are specialists in survey analysis software with more than 20 years experience in designing survey software.
Our latest release, Version 8.1 of The Survey System, is the most powerful survey analysis software yet. Using our survey analysis software is quick and easy.
Some of the key features about our survey analysis software are:
simple enough for occasional users, yet meets the needs of research professionals
designed specifically as survey analysis software
modular so that you can add the capabilities you need
easy to enter and edit data
includes complex statistical analysis at the touch of a button
easy to learn and use, even includes a complete tutorial and sample survey
standard Windows pull-down menus and dialog boxes – no commands to memorize
camera ready output tables for professional presentations
hundreds of options for customizing your reports
excellent inclusion of audio and visual components
We are very proud of The Survey System – a top rated survey analysis software program. We would be pleased to talk with you about how our survey analysis software can meet your needs. Call or email us. We look forward to hearing from you soon.
Overview | Data Entry/Networking | Optional Modules | Interviewing | Web Surveys | Survey Hosting | E-mail Surveys | Web Page Reports | Technical Specifications/Support| Reviews/Comments | Price/Ordering | Client List | Home